Stainless steel is the generic name for a number of different steels used primarily for their resistance to corrosion. The one key element they all share is a certain minimum percentage of 10.5 percent (by mass) chromium, although other elements, particularly nickel and molybdenum, are added to improve corrosion resistance and machine-ability.

The vast majority of steel produced in the world is carbon and alloy steel, with the more expensive stainless steels representing a small, but valuable niche market. Schnog Enterprises is able to purchase flat rolled secondary stainless steel from the two main domestic producers and in turn sells that steel to domestic end users, distributors, or international customers. The overseas demand for our stainless steel is a rapidly growing segment of the business.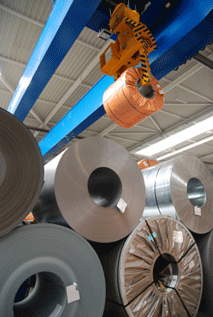 Stainless steel is purchased from mills and inventoried in warehouse/processors in Connecticut, New Jersey, Long Island, and Chicago. Not only do these warehouse/processors inventory the steel, they provide value-added services such as slitting, cutting to length, polishing, and special edging to customers' specifications.
The main end users for stainless steel are the automotive industry and manufacturers of medical instruments, restaurant equipment, garage doors, pots and pans, and cutlery.
Stainless Steel Products and Services:
Steel sheet and strip in coils
300 series alloys
400 series alloys
Stainless edging
Cut to length